'Urban Valley', a dog-friendly restaurant in Uijeongbu, a 'bookmark' spot for companions in northern Gyeonggi-do
Uijeongbu dog-friendly restaurant 'Urban Valley'
Uijeongbu dog-friendly restaurant 'Urban Valley', where you can visit with your dog, opened on October 15 (Fri). Let's go on a trip together to Urban Valley, which has a large parking space and indoor and outdoor spaces.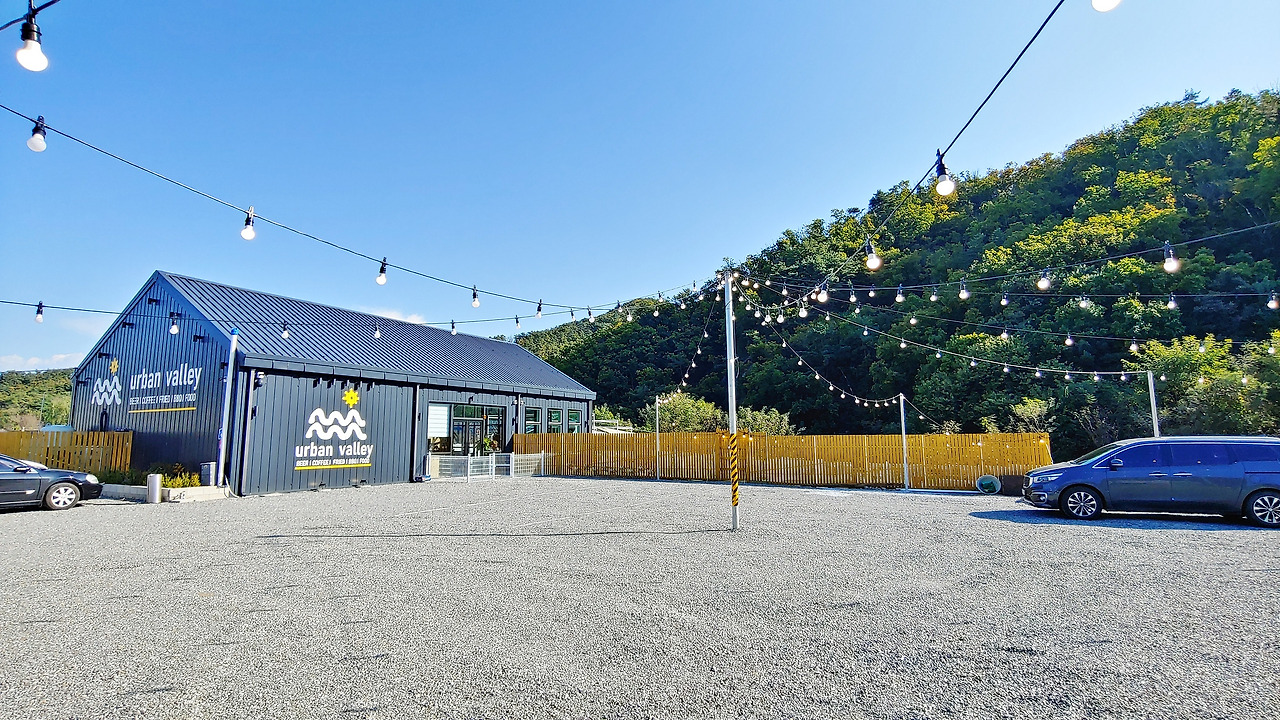 Urban Valley Parking Lot
When you arrive at Urban Valley, you will see a large parking lot. Park the car in the gravel parking lot and walk into the cafe. The blue background building seen from the outside of the cafe is impressive.
Looking up at the Urban Valley building
On the outside of the building, 'BEER | COFFEE | FRIED | BBQ | FOOD' is displayed. In fact, I came to know Urban Valley as a 'dog cafe', but looking at the wording on the outside, I think it's closer to a 'dog-friendly restaurant' than a cafe.
Urban Valley Indoor Scenery
When you enter the cafe, you can see the spacious interior space, high ceiling, green plants and cute accessories. The large windows that let in the warm autumn sunlight inside are also impressive.
Inside the cafe, there are various seats where you can dine. There is a long table with a rectangular shape in the center, and there are tables on the wall and the side of the window.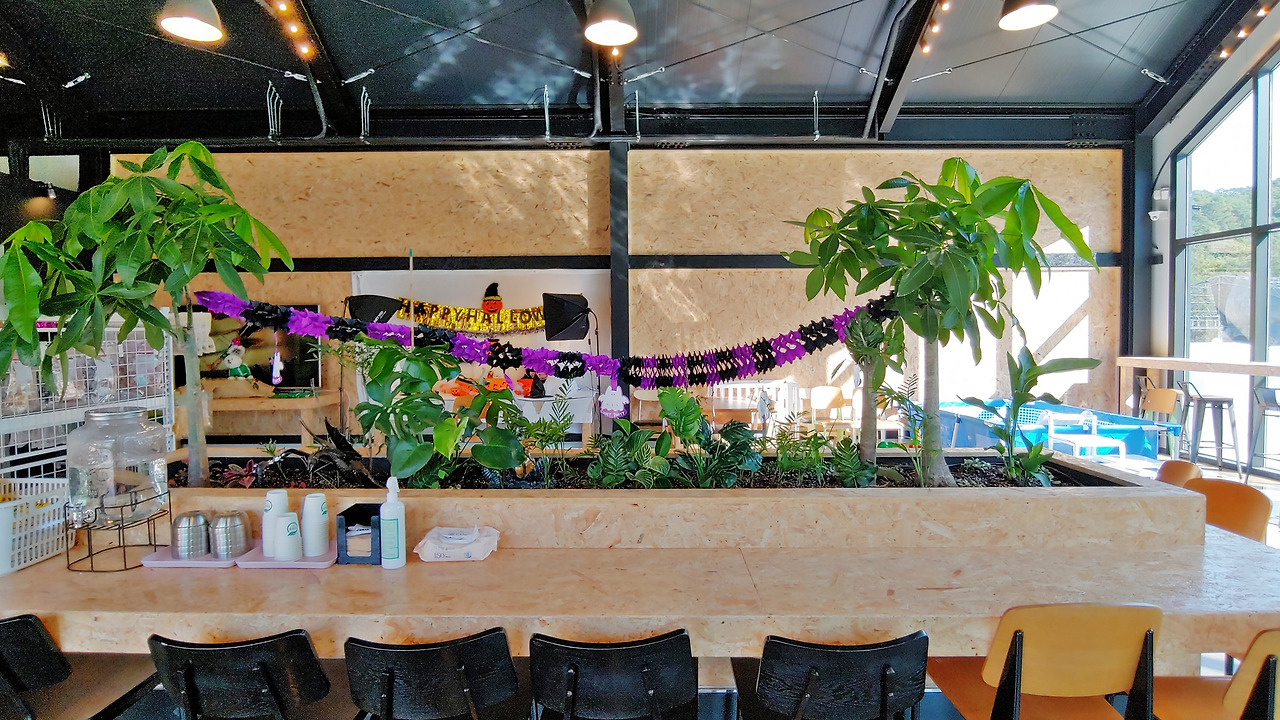 Urban Valley Indoor Table
There is also a dog safety table next to the dining table so that you can eat with your dog.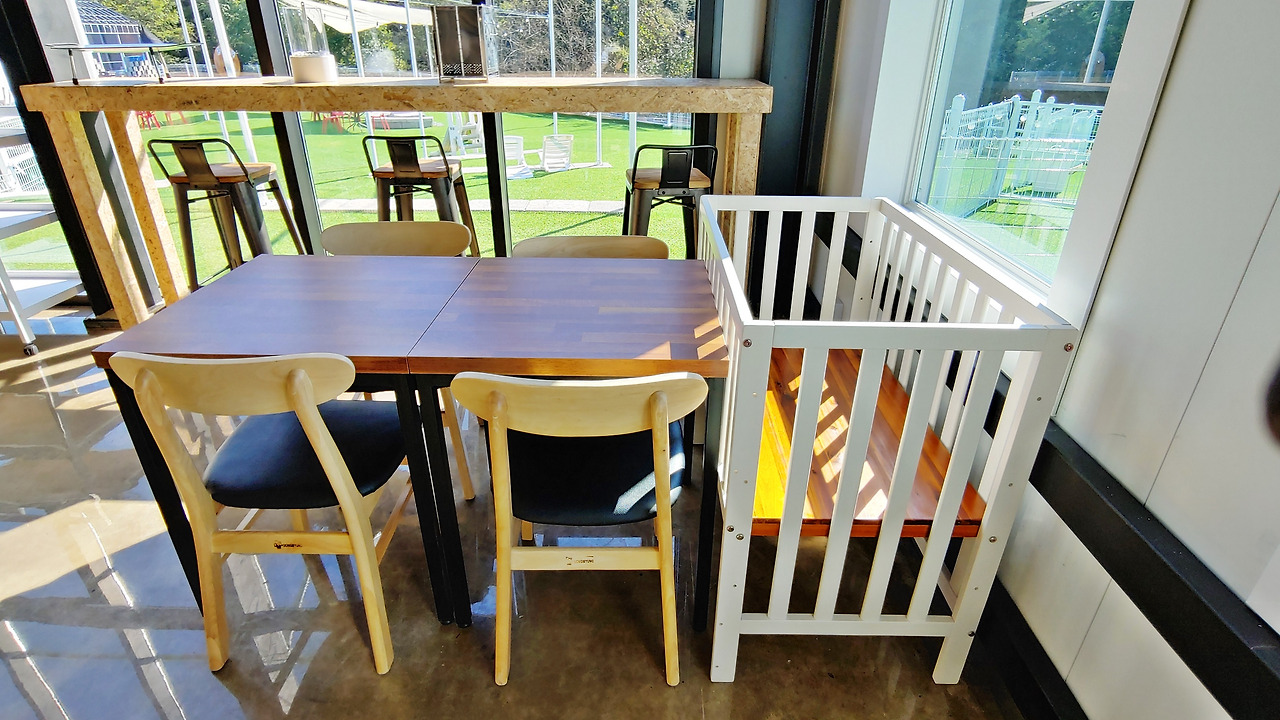 Dog safety table on the table
Order a meal at the counter and look around the interior of Urban Valley. There is a vending machine that can print photos from your smartphone, and there is a photo zone for cute dogs.
The concept of the photo zone for Daengdaeng was 'The Flower of Mugunghwa has bloomed' and 'Halloween Day'. The figure of a dog wearing a costume from 'The Flower of Mugunghwa has bloomed' brings a smile to my face when I picture it in my head.
indoor photo zone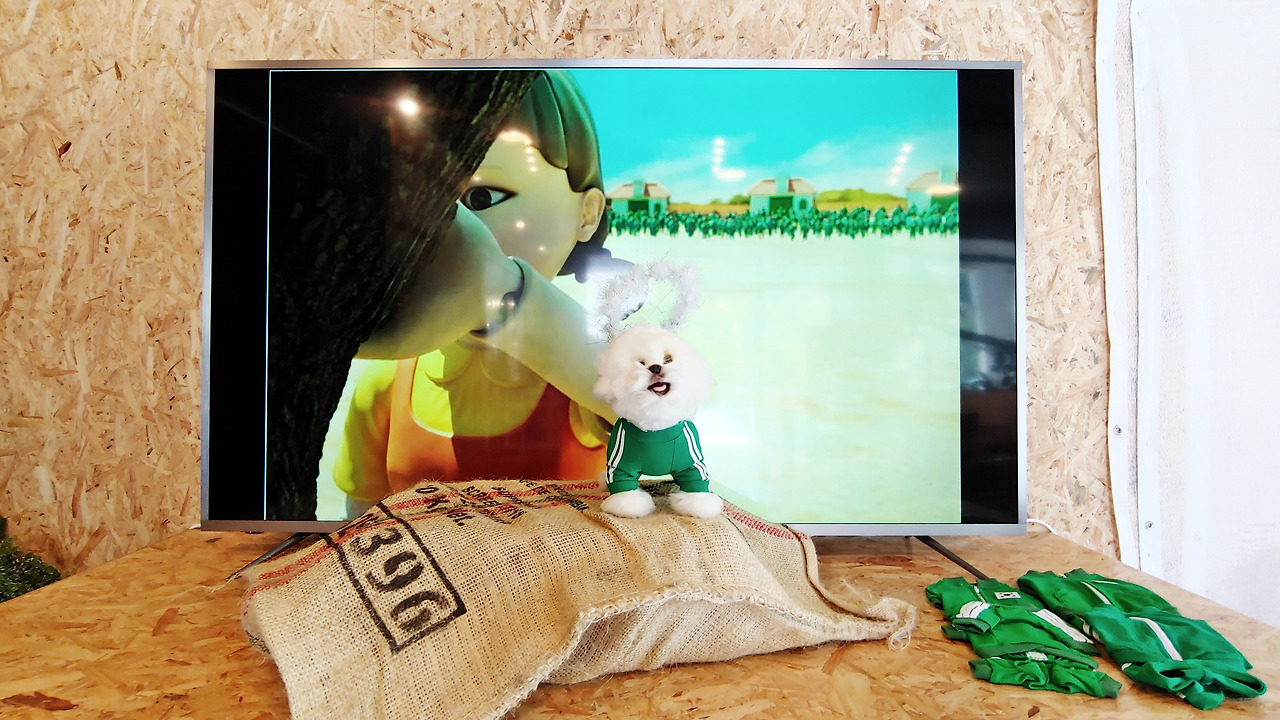 A photo zone with the concept of 'Mugunghwa has bloomed'
Meals were prepared while we toured the interior. The pork cutlet and tteokbokki I ordered came out, but when I ordered the pork cutlet set, it came with tempura and udon noodles.
After dinner, we heard about Urban Valley from Urban Valley co-CEO Seunghwan Lee.
Urban Valley Co-CEO Seunghwan Lee
Seunghwan Lee, co-CEO, said, "Urban Valley is a dog-friendly restaurant that you can visit with your dog. In my opinion, the current appearance of Urban Valley is about 50-60% of the completed appearance. It will take at least six months."
CEO Lee, who worked for a magazine in the past, said that he opened the first 'Dog Playground' in Incheon five years ago. Currently, 'Dog Playground' is being operated in five locations: Namyangju, Yongin, Cheonan, and Paju. CEO Lee says that his know-how and touch are all over the place from the 1st to the 5th dog park.
Perhaps that's why, here in Urban Valley, the image of a 'dog cafe' is full.
"I like to challenge things," says CEO Lee, who wants to make Urban Valley a space that can be used comfortably by not only pets and pets, but also the general public.
The representative concept of Urban Valley with CEO Lee's thoughts is 'camping'. And you can see it in the outdoor space of Urban Valley.
In Urban Valley, you can have a barbecue party with the meat and ingredients you have prepared. Others, such as braziers and grills necessary for parties, are provided by Urban Valley for a fee.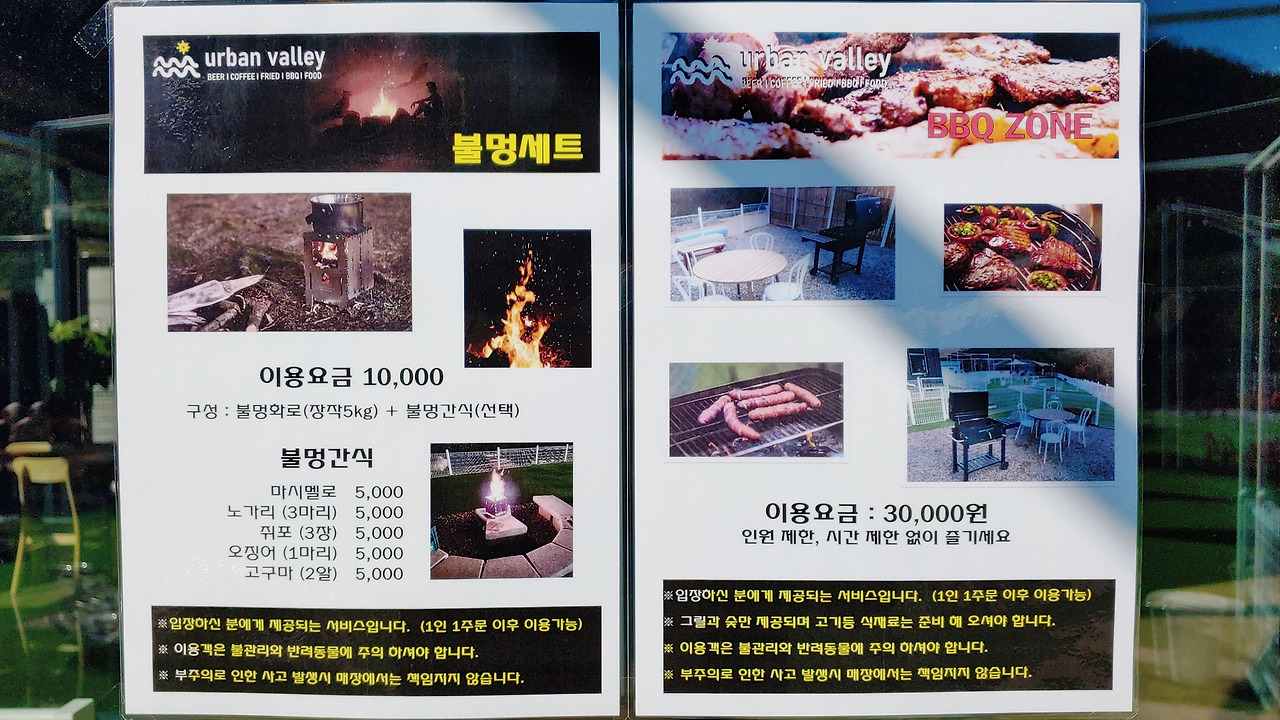 Guide to using 'Bullmong Set' and 'BBQ Zone'
Urban Valley outdoor space is a playground and playground with green artificial turf. If you first thought of Urban Valley as a 'dog cafe', you could say that this space is a playground for dogs, but this is a space shared by the general public and their companions.
Let's take a look at the pictures of various barbecue party locations installed outdoors. There are separate areas with low fences, and there are open seats in the large playground.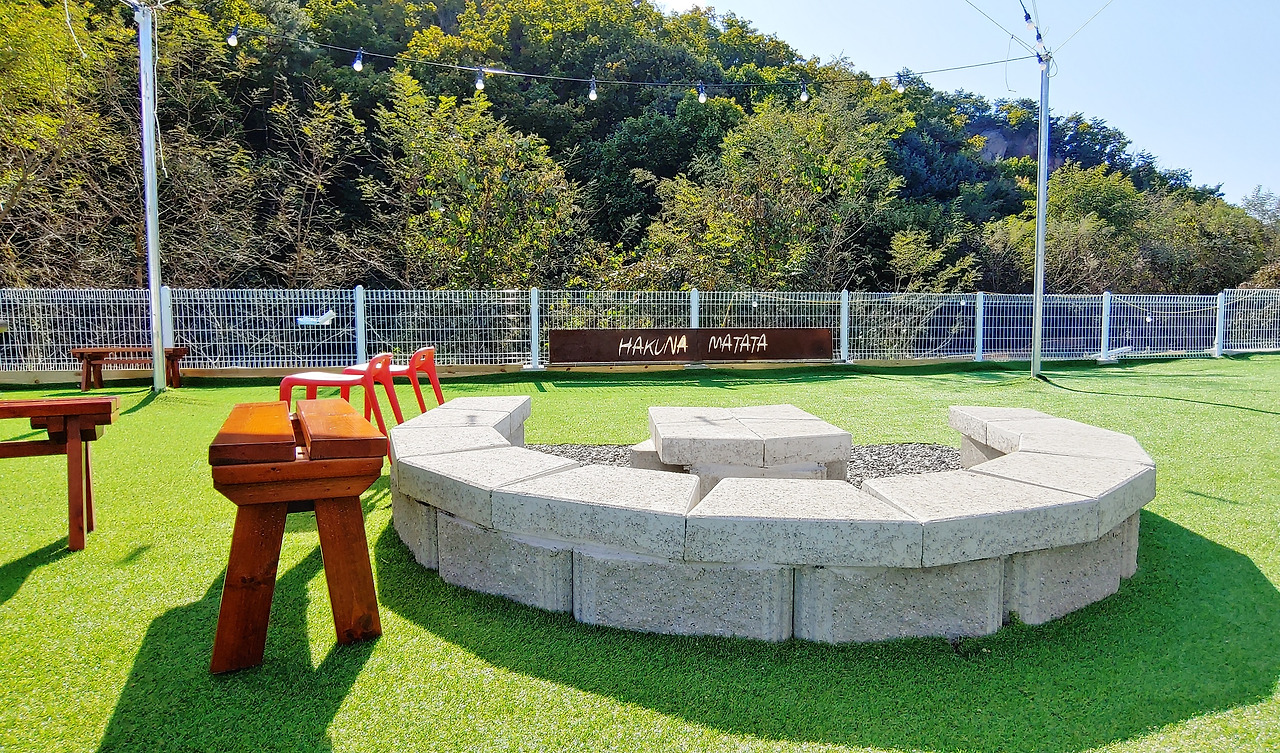 Outdoor space for a barbecue party
As CEO Lee said, Urban Valley, which is still 50-60% complete... I am very excited to see what the completed Urban Valley will look like. There is also a mini slide and a Halloween-themed photo zone in the outdoor space.
Urban Valley Autumn Scenery
The weather suddenly turned cold, it rained, and the weather was cloudy, but today we can see the blue autumn sky.
A place where the know-how of the dog cafe 'Dog Playground' is a favorite of companions and dogs, a dog-friendly restaurant with a camping concept that the general public and companions can enjoy together... It was a dog-friendly restaurant in northern Gyeonggi-do.